Bells are Ringing starts with the sweet and quirky Ella who is played by Judy Holliday. She works for an answering service creating different personas for each of the subscribers. Not intending to cause problems or create difficulty in her personal life, she falls in love with the voice of one subscriber named Jeffrey, played by Dean Martin.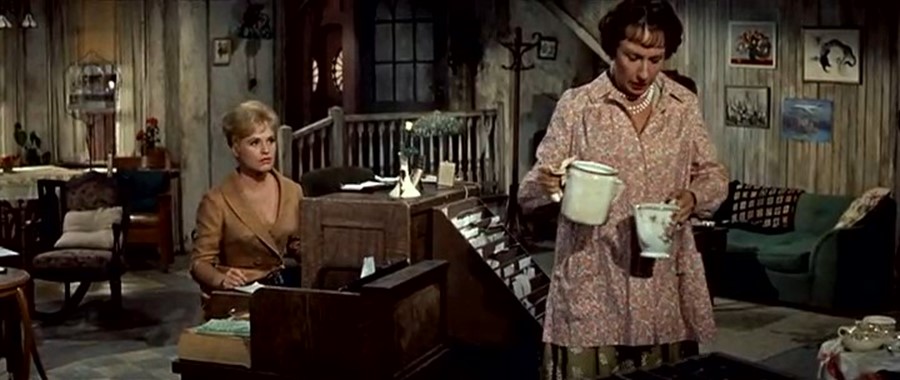 Each subscriber to the answering service is feeling the oppression of day jobs, requirements of society or the demands of others close to them. Ella helps each person she comes in contact with and shows them how to reach outward to fulfill their own dreams. Look past the fact that messages via cellphones remove the plot. Thousands of people, every moment, are creating altered personifications of themselves for the benefit of their pretentious online communities. The message, really, has not changed.
Police detectives pretend to be from Vogue magazine. A bookmaker pretends to run a record company. A man, forced to be a dentist by his father, wants to compose songs. Blake Barton belongs to a subculture that rebukes society. But what he really wants is to become a serious actor. Certainly, I don't need to outline the psychological implications of pleasing other people or pretending to be something you are not.
Each character lives among the fantastically detailed sets that the designers, Keogh Gleason and Henry Grace, have curated. Nothing is overlooked. The sets add to the delight of getting acquainted with the groups that Ella is forming a relationship with. Assorted books, artwork and sport equipment define the bachelor pad that Jeffrey lives in. Ella's basement workplace has peeling paint and water stains. Yet is full of hope with a pretty vase containing a single flower stem, yellow song birds and a granny square quilt for warmth.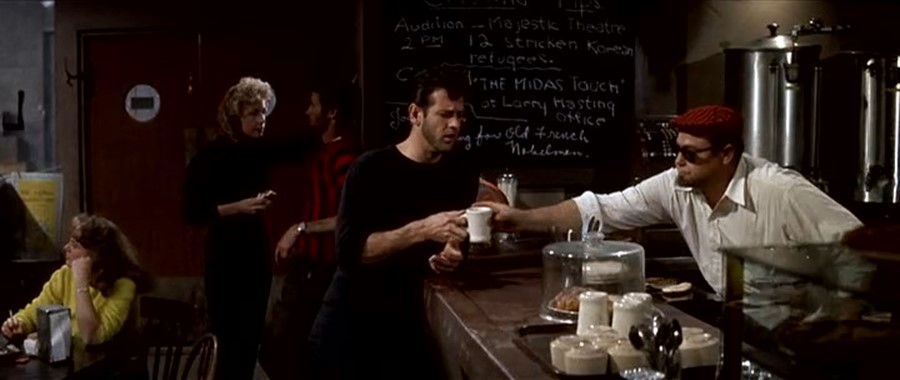 Mike's Lunch Room serves coffee to beatnik actors and boasts a large chalkboard with casting tips. Including a tryout for the Midas Touch. The coffee shop regulars, restaurant patrons and even the people walking the street are perfectly placed throughout the film by Vincente Minnelli, the director.
The costuming by Walter Plunket takes advantage of the set locations and run the gamut of sloppy sweatshirts with the sleeves torn off to elegant suits with matching neckties and homburgs. Ella received a "gown made for La Traviata" from an opera singing subscriber who needed a mustard plaster cure for a cold.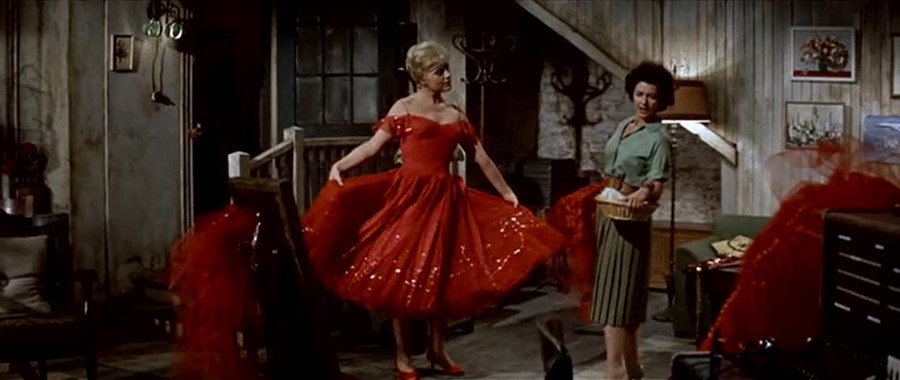 Ella altered the gown, slightly, for a date of dancing on the town with Jeffrey. He surprised her by taking her to a society party being thrown in his honor at a penthouse instead. Ella discovers that her full gown with crinoline petticoat seems slightly out of place at the event.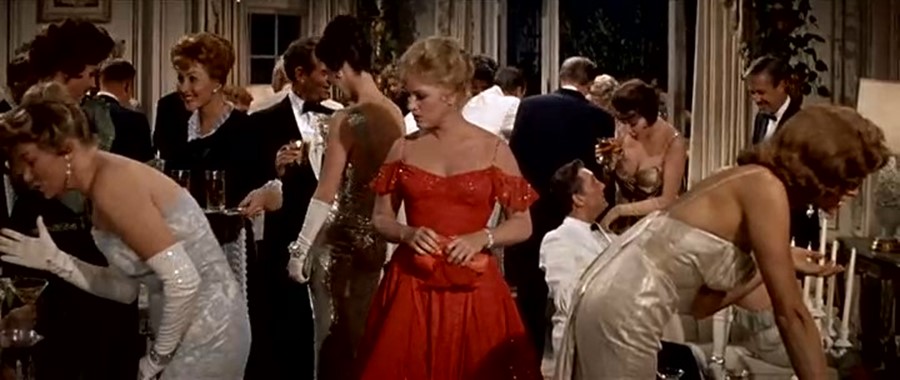 The tightfitting dresses on showcase at the party get the quick-thinking Ella to essentially remove the fluff layers of her own dress. The party scene resonates with me. Even a child recognizes the need for Ella to fit in. The women at the party literally turning their backs on Ella. After altering her appearance, she continues in her attempts to make small talk. The other guests talk of Hollywood stars that they refer to on a first name basis. The party-goers act aloof and don't make any attempt to make her feel comfortable. Ella smiles for the benefit of Jeffrey but is clearly hurt by the disapproving cliques as they roll their eyes. Ella is persistent and attempts to play their game. I can feel the sting as they continue to form an invisible barrier to Ella. She leaves the event in a very Cinderella's midnight moment and sings "The Party's Over".
After changing everyone's lives for the better, including Jeffreys, Ella realizes that her entanglement of lies is going to destroy her one chance at love. Even her rule-following Aunt Sue, played by Jean Stapleton, has narrowly escaped being snuffed out by the mob with assistance from Ella. The debonair bookmaker tried to romance Aunt Sue, who was known as "the other one" by the subscribers. Ella grabs her suitcase and decides it's officially time to get back to being herself. Her real self. Ella gets honest and finally frees herself from the pretend life she leads and finishes by belting out, "I'm Going Back".
I have been smitten with the movie ever since I was a kid seeing it for the first time. Often referring to the title as "Susanswerphone", I watched it repeatedly from a VHS recording growing up. My dad, who even owned the Broadway recording featuring Judy Holliday, threatened to tape over it just to tease me. If you are waiting for me to say something bad about this movie, you'll only hear that any imperfections add to the charm of the film.
A great musical comes together when you have a fantastic song and writing team and actors that are meant for their parts. For me, the details in set design and costuming pull everything into a complete package. Bells are Ringing originated as a Broadway play, based on Mary Printz who started the Belles answering service. Adolph Green, half of the writing duo for this film, was one of her clients. The idea that Printz beguiled Green and had him spinning her work of taking phone calls into a complete stage play gives the movie charm. Green had a six decades long writing partnership with Betty Comden and collaborated on screenplays and lyrics for famous musicals including Singin' in the Rain, On the Town and Good News. It is easy to see that their successful partnership, along with music from Jule Styne, created songs that we still remember today.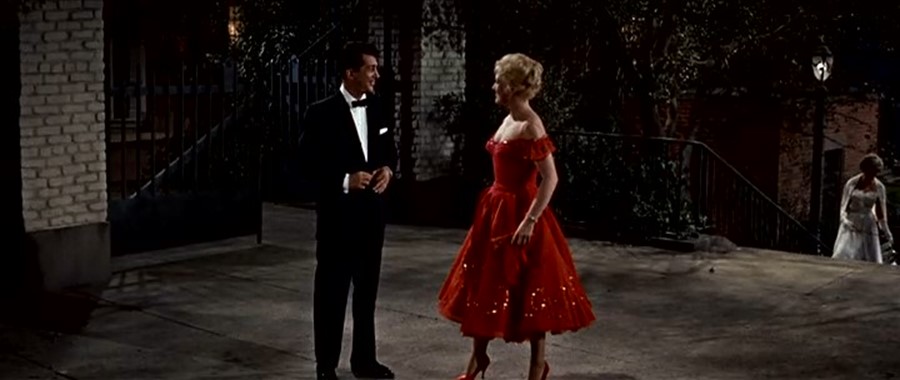 When Jeffrey places the song "Just in Time" gently into the New York city backdrop, I am sold every time. The truth is that if someone cares for you, really cares for you, they accept you just the way you are. With every imperfection and all of your quirks. The truth will set you free. True love belongs between true friendships. So don't forget to take the time to say hello to people on the street. They're just waiting for someone to make the first move.
Watch the video to see what the Kids thought of it.
Fun Facts:

Most of the uncredited actors played roles later on in their careers in TV series.
The girl reading a book in the Mike's Lunch Room scene is played by Elizabeth Montgomery, later famous as the star of Bewitched.
Bernie West, who played Dr. Kitchell the dentist, went on to produce All in the Family.
Jean Stapleton, Aunt Sue, starred in All in the Family.
Frank Gorshin, played Blake Barton, was famous for his role as "The Riddler" in the 60's Batman.
Donna Douglas in the penthouse scene. She went on to star in The Beverly Hillbillies.
Surprise! Belles is still in service today and has added to their services that are offered. The perfect relationship has 24/7 live, friendly professionals with personalized interactions. Even Steven Spielberg and Woody Allen had accounts through the Belles Service at one time.